Submitted by

GrammarCop

on Tue, 2006-08-15 04:50
Since this is my first post on this knitting blog, I figured I'd post the last project I actually completed: a baby blanket.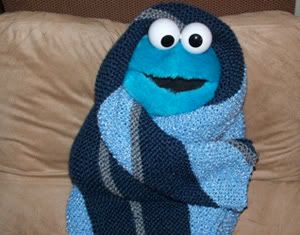 One of my co-workers and his wife recently welcomed a newborn boy to the world. While I wanted to create a fitting gift for the occasion, I'm a relative novice at knitting -- perhaps six months or so -- and it was a challenge to find a baby blanket pattern that (a) I could actually accomplish and (b) would be attractive and interesting enough to present as a gift.
The blanket shown above wasn't my first attempt. I'd first tried a "windowpane" blanket, which required me to knit five vertical panels that could be stitched together. The outer and center panels were a solid color, while the other two panels alternated colors. When the blanket was stitched together, I was sort of OK with the color effect, but I was unhappy with the workmanship. Add to that an unfortunate snag -- one of the panels started to unravel, and I had no idea how to fix it -- and I knew I had to try again.
The biggest challenge for this baby blanket pattern had always been how to come up with a finished project that was clearly for an infant, yet didn't scream pastels. The parents are sort of hipster-y, skateboard-riding rockers who wouldn't be caught dead in anything sherbet-colored, so why consign their kid to that fate? I had to think long and hard about colors that were clearly male, yet that didn't come across as too cutesy.
Ultimately, I settled on a navy blue, set off by baby blue with a neutral gray for contrast. As for the patterns, I wasn't finding anything that really spoke to me. I knew I had to try something really ambitious.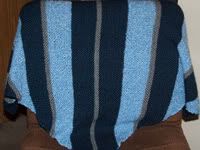 Then it came to me: diagonal stripes. (Click that photo for a larger image.)
I had my ex teach me how to do increases that wouldn't show (yarn-over increases always leave those big holes) and I designed my own pattern, alternating the blues with the gray contrast stripe. It was the first time I'd tried my own design, and I was pretty pleased with the way it turned out.
Right now, I'm working on a new project: a cover for a throw pillow. The back is pretty straightforward -- stripes of varying widths -- but the front is a whole new ballgame. A new skill. Something my ex -- who's been knitting for years -- doesn't even know how to do. Heck, though, for my first time at intarsia, it doesn't look too bad!