Submitted by

GrammarCop

on Fri, 2006-09-01 19:21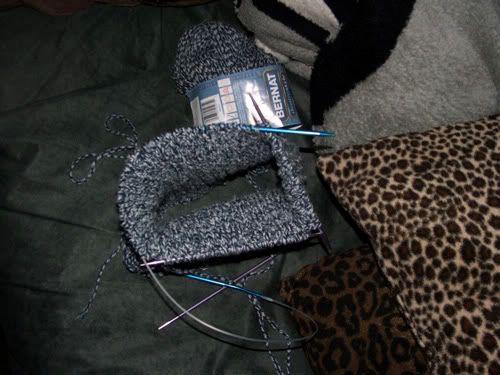 I started a hat. And I got bored with it. And I decided I wasn't going to make it the way I originally thought, and for the person I originally intended. But I figured I *had* to finish it, and since I was more or less making up my own pattern (gulp!), I had no idea it would be so hard to decrease a ribbed hat. This was my first project knitting in the round, and I used both circular needles and double-pointed needles.
Sigh. The picture at left shows me switching from circular needles to dpn. Another whoops, since I had been knitting on circular needles smaller than the size 8 dpns I bought for this project. I don't know why I didn't start the project on my size 8 circular needles, but ... bygones, right? (For some reason, it never occurred to me to make sure the needles were the same size before I started the project. I just grabbed the set on top of my knitting bag and set to work.)
So I ran out to JoAnn to pick up some dpns that will be the right size. Except I didn't own a knit gauge, and I couldn't remembered whether my circular needle was a 5 or a 6. I picked up dpns in both 5 AND 6 and also grabbed a knit gauge and managed to get out of the store just before closing.
Wouldn't you know it, when I got home, I discovered my circular needles were a size 7? This is what Shakespeare would have called a "Comedy of Errors," and what I was starting to call a "knitmare."
As you can see in the picture to the right (click for full image), the gauge wasn't TOO far off -- but I had a heckuva time with the decreasing. You see I gave up trying to make the ribs work and just did the last 16 rows or so in stockinette.
But finish it I did, and unless you know what you're looking for, you'd probably be hard-pressed to figure out anything's actually wrong with it. And even though I was designing this as a gift for someone else and that plan won't work anymore, it's not a bad little hat. I could definitely see myself wearing this on a cool, crisp autumn day in Seattle.