Submitted by

YarnGuy716

on Sun, 2008-02-17 21:32
One of my co-workers is expecting his first child, so our department took up a collection to buy baby gifts. I added a baby sweater and hat to the gifts.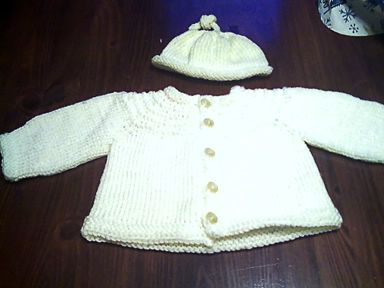 The sweater is a variation of the 5 Hour Sweater that is available online. I went the way of not making it lacy and added buttons. The hat is the Umbilical Cord Hat from Stitch-n-Bitch, which is my favorite baby hat pattern.
Sorry for the picture quality, my digital camera bit the dust so these were taken with the camera phone.