Submitted by

drmel94

on Thu, 2006-02-23 03:49
Thirty-two members of the glbt-knit listserv made squares for a love blanket for one of our own who was diagnosed with lung cancer. I haven't really kept up any posts on the project on here, but the blanket was delivered today and was a much-appreciated surprise. One of our members started a blog so that we could keep a record of the project. I'm so glad to have been a part of something so wonderful.
In other news, what I've started calling my "Knitting Unlympics" project - the mittens - has been progressing along. I'm currently working on the cuff for the outer (and final) layer of mitten #2. I didn't sign up for the Knitting Olympics, but I'm hoping to finish this project by the time the flame goes out. After that, I'm not certain. The Malabrigo hat has been fulled but needs some remediation so that I don't look like this: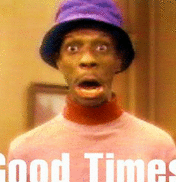 Otherwise, I'll probably go back to a few UFO's I've got on the needles, especially the pullover vest that I've planned a nice Fair Isle pattern for.