Submitted by

YarnGuy716

on Mon, 2008-12-15 23:37
Right now I have 3 pairs of socks in the works. Of course two of those each have one completed sock. It's just the way I am.
I use the Basic Sock pattern from Ann Budds book, The Knitters Handy Book of Patterns. I just throw in different ribbing patterns. This first pair is using my own hand-painted sock yarn that I dyed using drink mixes. I've gotten about 5 inches of the 2nd sock knit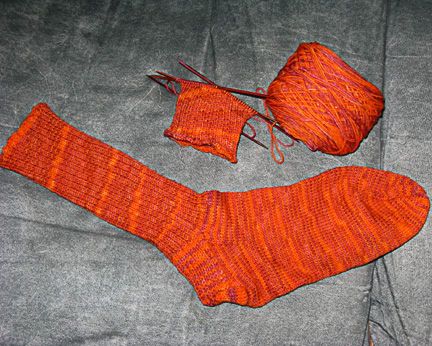 This next pair is using a variation of the pattern After Berta, from Socks, Socks, Socks. Rather than doing a straight ribbing on the leg, I spiraled the leg and knit the foot stockinette. The yarn is Regia Cotton.
This last one is failing to please me in results and it may get frogged. I'm working a zig-zag rib on the leg, but the self-stripping of the yarn is really hiding it. I think it would look much better in a solid color. I'll either rip this out and start them over with another sock yarn, or rip back to before the zig zag and work the 2/2 rib straight.