Submitted by

YarnGuy716

on Mon, 2009-03-30 14:17
I have 3 cousins with babies on the way so I've been making baby things. The baby sweater is probably one of my favorites and I can't tell you how many of them I've made over the years. It was a free hand out from Robin Yarns that I got back in the 80's. I can't even find it listed in Ravelry and believe me my copy is pretty worn and dog-eared. The first one that I had ever made was my 2nd knitting project many years ago. When I thought about it I realized that the baby that I knit it for is now about 23 years old.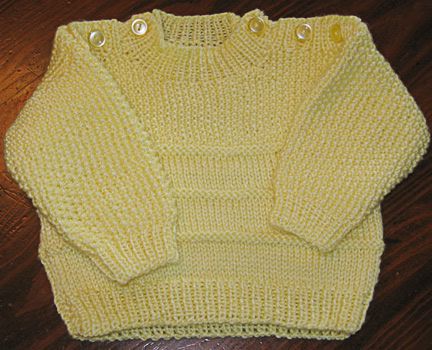 It's made of Bernat Softee baby yarn. The button shoulder closures makes it great for not worrying about the head fitting. Like I said, it is one of my favorites.
I just didn't have it in me to make two more of these sweaters, so I went with baby blankets. The pattern is the Pinwheel blanket, which I found on Ravelry. The yellow blanket is Wool-Ease and the cream is Bernat Aspen Soft.